CDs
New Release!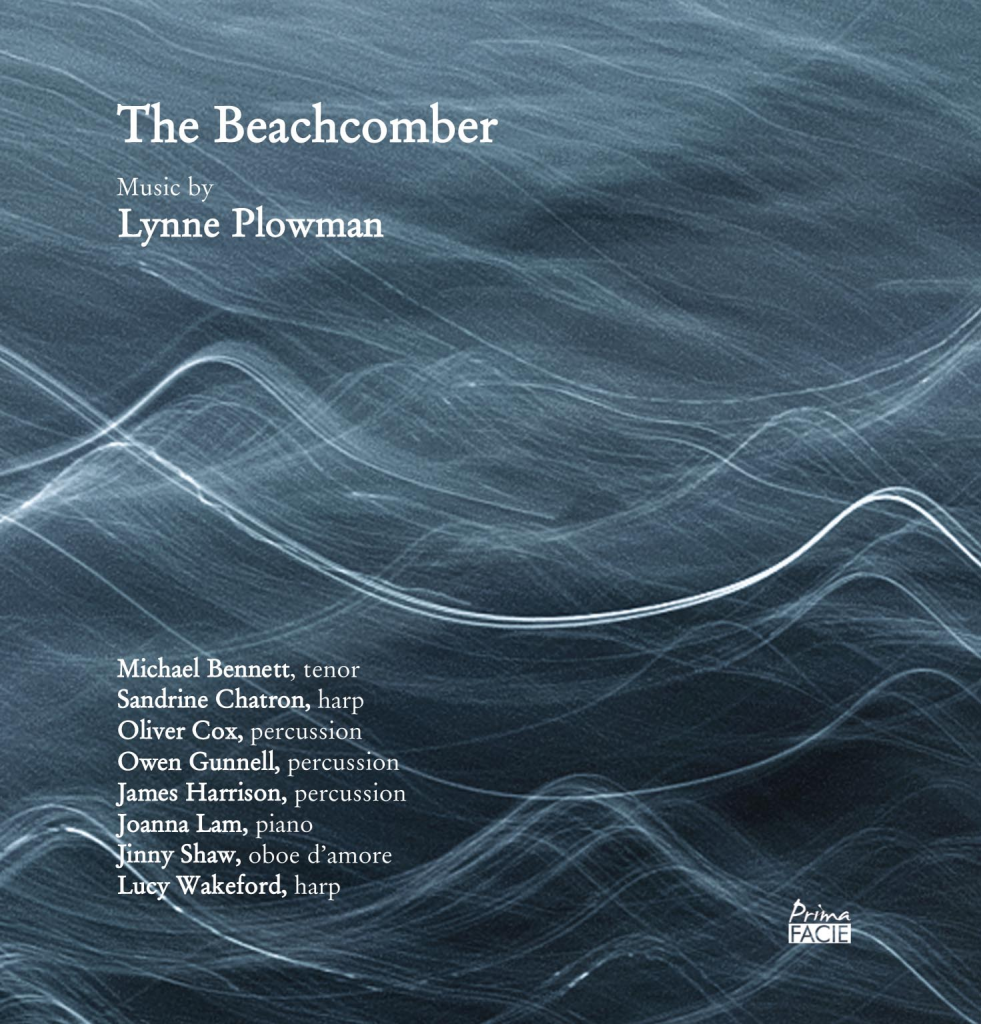 The Beachcomber
I'm delighted to announce the release of my new album, The Beachcomber, on the Prima Facie label (PFCD135) on 25th September 2020.
Two works composed in 2017 form the framework of this project - A Field Guide to Pebbles (five short pieces for percussion duo), and Songs of the Sea Dreamer, a song-cycle for tenor and harp - settings of four poems by Russell Hoban. Working closely with the tenor, Michael Bennett and harpist, Sandrine Chatron, I have drawn these poems together into a work which tells a story of love, loneliness and the sea. The songs are separated and intertwined with evocative instrumental tracks, including intimate solos for harp and piano and a hypnotic duo for oboe d'amore and harp, floating turning spinning.
Artists
Michael Bennett, tenor
Sandrine Chatron, harp
Oliver Cox, percussion
Owen Gunnell, percussion
James Harrison, percussion
Joanna Lam, piano
Jinny Shaw, oboe d'amore
Lucy Wakeford, harp
BUY CD
Other CDs

a song more silent ....
new works for remembrance
A premiere recording by the London Mozart Players and the Portsmouth Grammar School Chamber Choir of four new works commissioned for Remembrance Day in Portsmouth Cathedral. Alongside pieces by Tarik O'Reagan, Cecilia McDowell and Sally Beamish, Lynne Plowman's Cries Like Silence, is a dramatic setting of poems by Ted Hughes (Crow's Account of the Battle) and E. E. Cummings (these children singing in stone). Avie Records: AV2147
BUY CD
Ariel
Catherine Handley (flute) & Andrew Wilson-Dickson (piano)
Music for flute & piano by composers from Wales. Includes Lynne Plowman's Night Dances. A0267-CD
BUY CD
The Stargazer
The Stargazer
, for tenor and strings, recorded by the London Mozart Players with tenor, Ashley Catling, conducted by Michael Rafferty. Alongside Mozart's Eine Kleine Nachtmusik and Cassation in G. ELDCCD0501
ORDER CD from LMP
Horizons
New music for oboe and harp performed by Okeanos (Jinny Shaw - oboe / Lucy Wakeford - harp). Includes Lynne Plowman's
floating turning spinning
for oboe d'amore and harp and
The Mermaids' Lagoon
for solo harp. ASC CS CD51
BUY CD
The Franklin Effect
Four women scientists, in collaboration with four women composers, have created the music on this disc, inspired by the work of DNA scientist, Rosalind Franklin. Commissioned and performed by vocal quartet, Electric Voice Theatre. First Hand Records: FRH51
BUY CD
The Great And Wide Sea
Sung by Opus Anglicanum, narrated by Zeb Soanes. Lynne Plowman's The Rime of the Ancient Mariner and Sally Beamish's Sea Psalm. An Opus Anglicanum CD.
BUY CD