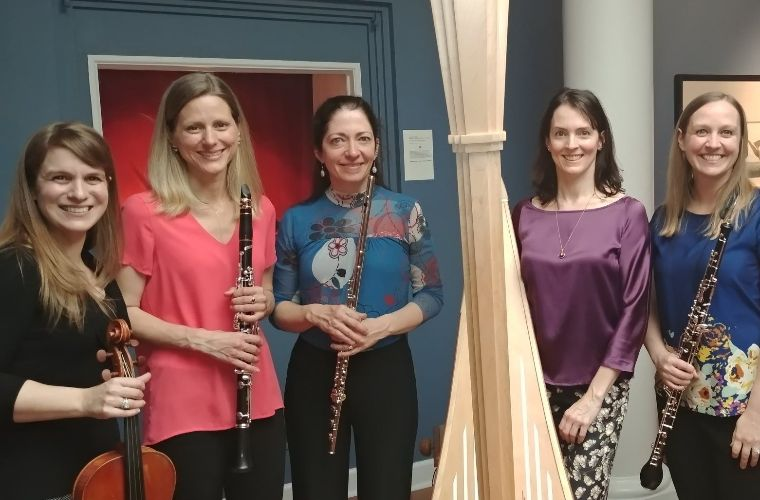 Small World premiere in Atlanta
In March 2022, in Atlanta, USA, my newest commission 'Small World', is being premiered by the Merian Ensemble, a chamber ensemble comprising members of the Atlanta Symphony Orchestra. It's a ten-minute piece for flute, cor anglais, bass clarinet, harp and viola.

The idea for 'Small World' was sparked by seeing the Mappa Mundi in Hereford Cathedral. Made around the year 1300, it depicts the history, geography and stories of humanity as they were perceived by the church in Britain at that time. The part of the world they knew of, roughly equivalent to Europe, Asia and North Africa, is mapped with east at the top, where the sun rises, and the British Isles at the bottom on the left. Research into early map-making also led me to the Babylonian Imago Mundi, held in the British Museum in London, and believed to date back to the 6th century BCE. Around the same size as a mobile phone, the clay tablet is carved with a circular map of the world, surrounded by a "bitter river" and outlying areas in the shape of a star. These distant regions are labelled with descriptions such as "the winged bird ends not his flight", "the light is brighter than that of sunset or stars" and "where a horned bull dwells and attacks the newcomer". On both maps there are drawings or lists of creatures, real and fantastical, which inhabit these distant places.

Small World begins with four simple phrases representing the four points of the compass and then a journey begins. The melodies are derived from an ancient musical mode (Phrygian Dominant) which is common to many different musical traditions including Arabic music, Klezmer, Flamenco and Indian classical music. I like the idea that, across cultural, historical and geographical boundaries, music is a common language. I'm also haunted by the idea that both literally and figuratively, we hold our fragile, beautiful planet in the palm of our hand.

The commission of Small World has been funded by the PRS Foundation and the American Harp Society. Collaboration between Lynne Plowman and the Merian Ensemble in Atlanta is funded by the Arts Council of Wales (Wales Arts International).
Lynne Plowman
Lynne Plowman