The Hermes Experiment
The Elgar Concert Hall
Bramall Music Building
Birmingham
B15 2TT
GB
Barber Lunchtime Concert

Anne Denholm harp
Oliver Pashley clarinet
Marianne Schofield double bass
Heloise Werner soprano

The Hermes Experiment perform a programme of new music including the premiere of Oliver Pashley's arrangement of 'Pedalling Man' from 'A Field Guide to Pebbles' by Lynne Plowman.

Anna Meredith, arr. Schofield Fin Like a Flower
Lili Boulanger, arr. Schofield Reflets & Attente
Raymond Yiu Written at Sunset
Lynne Plowman, arr. Pashley Pedalling Man from A Field Guide to Pebbles
Philip Venables A Photograph
Ruari Paterson-Achenbach to sleep on it (selected movements)
Olivier Chaney, arr. Schofield Roman Holiday

ADMISSION

Free admission

Doors will open 20 minutes prior to concert. Arrive in good time to guarantee a seat.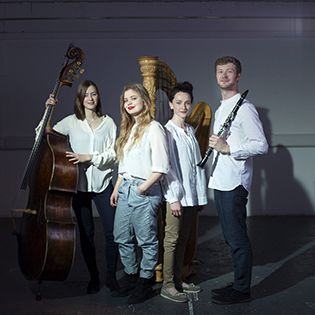 https://www.birmingham.ac.uk/schools/lcahm/departments/music/events/2022/spring-22/barber-lunchtime-hermes-experiment.aspx